The GOED Clinical Study Database (CSD) – a comprehensive, searchable database of all human interventional studies on EPA and DHA – has been many years in the making.
The CSD can be used by you and your team to save time, money, and resources.
The CSD includes two powerful search tools.
Abstract Search: Includes details on whether the abstract conclusions are positive, negative or neutral, plus associated keywords, influential study authors and relevant journals.
Advanced Search: Includes data on every outcome from a given study, is fully searchable and can be filtered by the variables below.
Study size
Demographics – age, gender
Participant characteristics – diseases, medical history, etc
Intervention, omega-3 dosage, placebo
Number of participants, study length, year of publication
Results
How can the database be used?
There are many possible uses for the CSD:
Substantiating health and structure/function claims
Performing systematic reviews and meta-analyses
Identifying gaps in research
Preparing white papers and opinion articles
Responding to and commenting on media articles
Providing direction in product design and marketing
5 Things you Should Know About GOED's Clinical Study Database
What makes this database unique?
Generates results in 60 seconds that would normally take six months or more of time and research.
Results can be customized for outcome of interest, population characteristics, dosage and study size.
Unlike PubMed, GOED's Clinical Study Database includes data on every outcome in a given study, not just what's covered in the abstract.
This database is carefully curated to include relevant studies in a customized pre-screened list.
Complex search results are downloadable and shareable.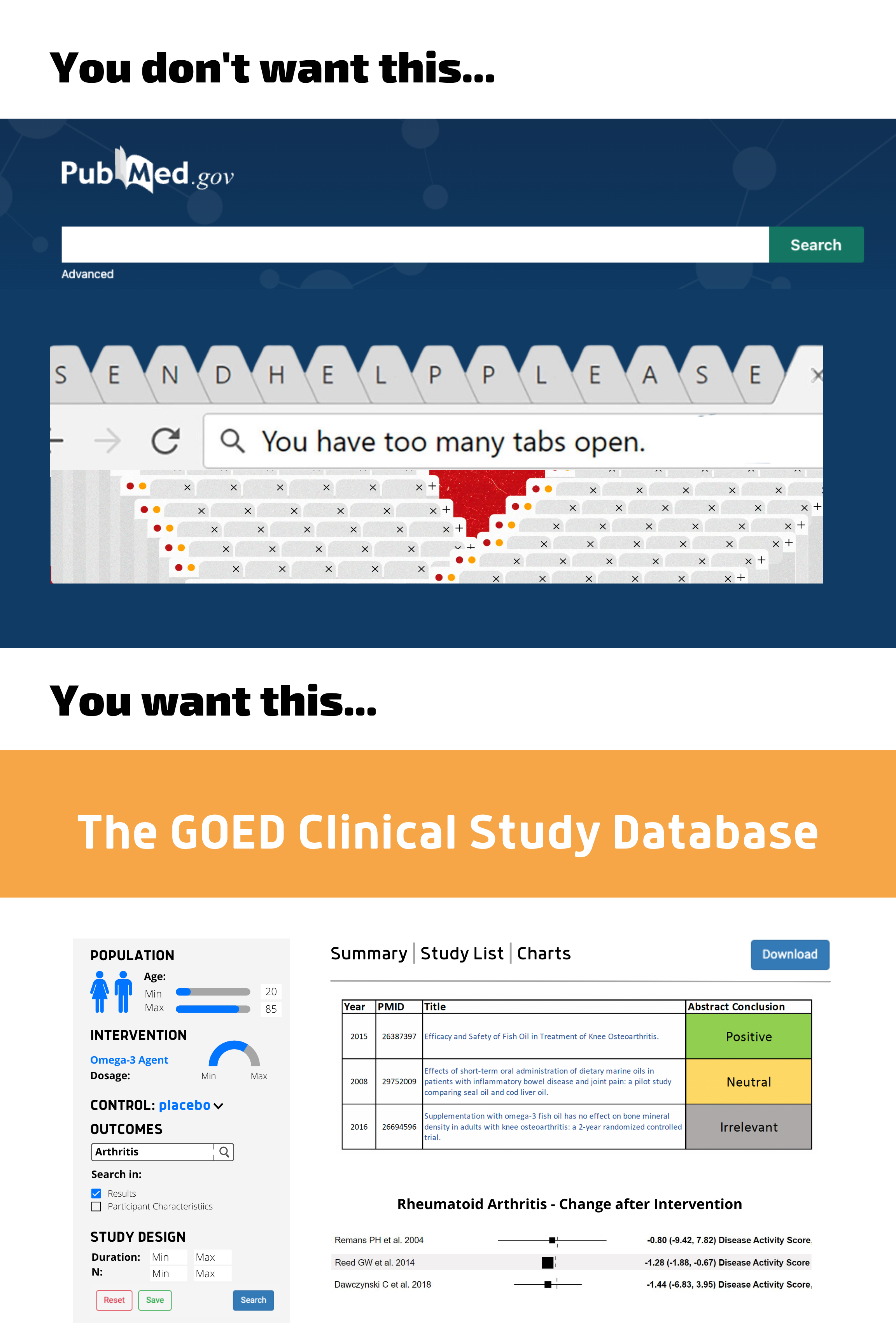 How can I subscribe?
Already have an account and trying to log in? Click here.